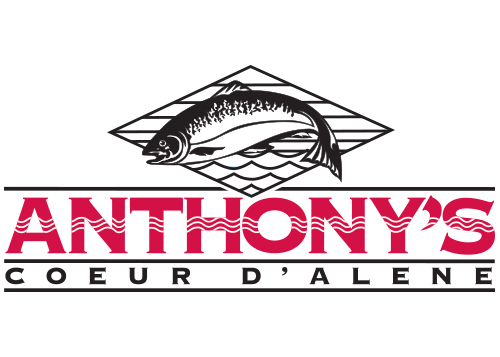 Fresh Northwest seafood in a scenic waterfront setting.

CUISINE: Seafood
208.664.4665
1926 W. Riverstone Dr.
Coeur d'Alene | Idaho
Menu served Monday-Sunday, 4pm-9pm
First Course
Hawaiian Ahi Nachos
Traditional Hawaiian poke served on homemade taro chips with wasabi aioli.
Anthony's Award-Winning Clam Chowder
A cup of our homemade New England clam chowder.
Oregon Shrimp Cocktail
With Oregon Coast shrimp. GF
Second Course
Fresh Columbia River Steelhead
Chargrilled and finished with roasted apple-ginger butter. Served with cornbread pudding and seasonal vegetable.
Steak and Prawns
Large ocean prawns basted with cilantro pesto and paired with a petite top sirloin.
Chargrilled Prawns
Basted with cilantro pesto and served with seasonal vegetable and our homemade cornbread pudding.
Third Course
Anthony's Burnt Cream
Our traditional silky rich vanilla burnt cream with a caramelized sugar crust topping. GF
Olympic Mountain Chocolate Chip Cherry Ice Cream
Made by Olympic Mountain Ice Cream. GF
Sticky Toffee Pudding
With vanilla ice cream and our homemade caramel sauce.
V: Vegetarian item   |   VA: Vegetarian alternative available - ask your server
GF: Gluten Free item   |   GFA: Gluten Free alternative available - ask your server
Glass of Colter's Creek Syrah 
A 2018 Cascadia Wine Competition Gold Medal winner. $10
Fatman IPA 
A balanced, Northwest IPA from Hayden, Idaho's beloved Mad Bomber Brewing Company. $6
Northwest Old Fashioned 
Its history goes back to the late 1800s. Ours is made with Dry Fly Bourbon. $9.5