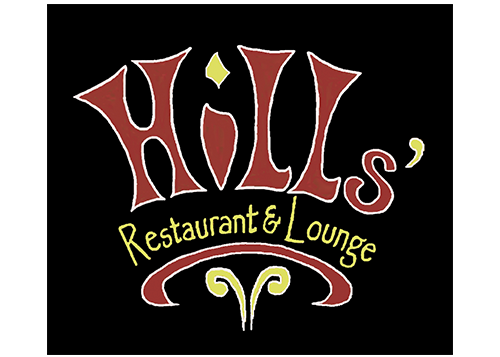 HILL'S RESTAURANT AND LOUNGE
Delivering diverse, from-scratch cuisine in a casual setting for over 24 years!

CUISINE: Gastropub
509.747.3946
401 W. Main
Downtown Spokane
Open Tue-Sun
First Course
Kurobuta Pork Belly
Marinated, braised, roasted then glazed. Served with a picante tomato marmalade. 
Ahi Tuna Tartar
Beautiful ahi mixed with lime juice, apple, mint, pine nuts and spices. Served with fresh sesame crackers. 
Fresh Calamari
That's right…fresh. Amazing flavor and texture. Served with two great accompanying sauces. 
Second Course
Flame Grilled Beef Shoulder Tender
Tender beef with shiitake mushrooms, bacon and Gorgonzola butter. Served with garlic fries. 
Salmon Cake and Prawns with Lobster Sauce
Alaskan salmon cake, Gulf Coast prawns and lobster sauce, served with rice pilaf. 
Tandoori Chicken
Spicy marinated breast of chicken served with pineapple and mango chutney and rice pilaf. 
Third Course
Huckleberry Ice Cream
Local huckleberries and Madagascar vanilla beans make for one great ice cream. Served with a semi-sweet chocolate cookie. 
Grand Marnier Creme Brulee
This orange liqueur-flavored creme brulee is served with candied orange and an almond and vanilla tuile cookie. 
Chocolate Sin
A rich flourless chocolate cake served with raspberry sauce and chantilly cream. 
Dry Fly Spicy Bloody Mary
Made from Chef David's blend of rooftop-grown habanero, ghost chili and Thai peppers infused into Dry Fly's amazing vodka. $6
Barrister Winery
Award-winning Cabernet Franc. $9 glass
River City Brewing
River City Red Ale. $5 pint