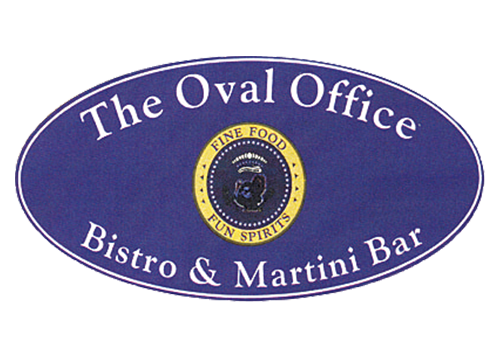 OVAL OFFICE BISTRO & MARTINI BAR
A romantic restaurant that serves Northwest cuisine with a foreign idea. 
CUISINE: Northwest
208.777.2102
620 N. Spokane
Post Falls, ID
Open Mon-Sun
First Course
Petite Gorgonzola Lamb Burgers
Served with our tangy red cabbage slaw. 
Moroccan Spinach Salad
Fresh spinach, cranberries and candied walnuts. Tossed in cinnamon balsamic vinaigrette and topped with shaved Parmesan cheese. 
Skinny Secretaries
Skinny asparagus spears, grilled and tossed in our garlic lemon sauce. 
Second Course
Chicken Ravioli
Chicken, pancetta, red onions and cheese-filled ravioli smothered in our delicious three-cheese cream sauce. 
Parisian Steak
Thinly cut of angus rib-eye, grilled and served with au jus. Served with homemade French-style onion rings and fries. 
Grilled Lamb Chops
Walnut and herb-crusted lamb chops with a reduced balsamic vinaigrette. Served with baked macaroni and cheese.
Third Course
Coffee Creme Brulee
Raci's favorite! 
Lemon Cheesecake
Homemade awesomeness! 
Chocolate Martini
Vanilla vodka with Godiva white and dark chocolate liqueur. Give me Liberty…or give me a chocolate martini!!
Post Falls Brewing Company
Fat Lenny IPA. $4
Barrister Winery
Rough Justice. $34 /bottle