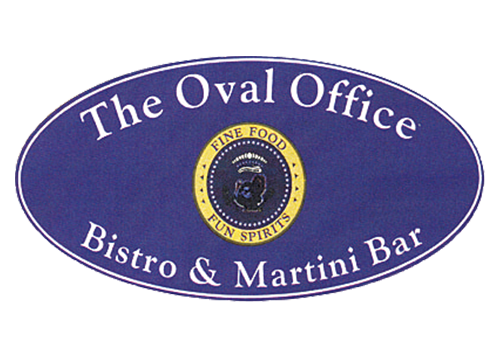 OVAL OFFICE BISTRO & MARTINI BAR
Northwest cuisine with foreigner flair
CUISINE: American
208.777.2102
620 N. Spokane
Post Falls, ID
Menu served Monday-Sunday, 3pm-11pm
First Course
Brussels Sprouts
Sautéed with a spicy, savory sauce and sprinkled with walnuts. V
Happy Mushrooms
Button mushrooms sautéed with butter, chili flakes and soy sauce. V
House Mix
Mixed greens, red onions and tomatoes tossed in raspberry vinaigrette and topped with gorgonzola crumbles.
Second Course
Salt and Pepper Prawns
Butterflied extra large prawns marinated in olive oil, salt and pepper. Accompanied by lemon-butter dipping sauce, creamy pesto linguine and sautéed veggies.
Barron Steak
A flavorful rib-eye steak grilled to perfection and served with creamy peppercorn steak sauce.
Blackened Salmon
Our famous blackened salmon served with rice and sautéed veggies.
Third Course
Creme Brûlée
Espresso flavored custard topped with caramelized sugar.
Lemon Cheesecake
House-made and very delicious!
Chocolate Helena
House-made, flourless cake served warm with vanilla bean ice cream.
V: Vegetarian item   |   VA: Vegetarian alternative available - ask your server
GF: Gluten Free item   |   GFA: Gluten Free alternative available - ask your server
Radio Brewing Porter 
$4.5
Arbor Crest White House Blend 
$25 Bottle
White House Red Blend 
$7