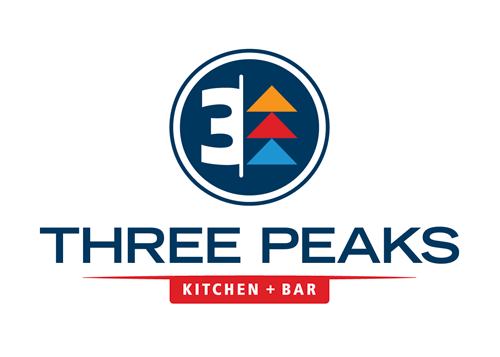 Three Peaks Kitchen & Bar
A place of gathering for casual dining using local ingredients.
CUISINE: Bistro
509.818.1547
14300 W SR-2 Hwy.
Airway Heights, WA
Menu served Monday-Sunday, 4pm-close
First Course
Calamari Fries
Golden fried and topped with sriracha aioli, togarashi spice and roasted peanuts.
Pork Belly
Slow braised then crispy fried. Served on a grilled watermelon block topped with hoisin glaze and house-made cotton candy. GF
Mediterranean salad
Spring greens, artichoke hearts, kalamata olives, feta cheese, cucumbers, tomatoes and pepperoncini tossed in our rich Greek vinaigrette. GF V
* Add chicken for $3
Second Course
Steak Frites
Top cap sirloin served on a bed of garlic fries topped with a rich béarnaise sauce and micro greens. GF
Roasted Airline Chicken
On a bed of smoked potato puree, seasonal vegetable, topped with garlic cream, spinach coulis and sweet potato crisps. GF
Skillet Crab Mac N' Cheese
Lump crab, cavatappi noodles in a creamy four cheese sauce. Finished with seasoned crumbs and asiago cheese.
Third Course
Cheesecake Trio
Mascarpone cheesecake bites with mango, huckleberry, strawberry coulis. Vanilla vodka whipped cream, strawberry dust. GFA
Sacher Torte
Raspberry chocolate cake with whipped cream, creme anglaise, raspberry gel.
French Martini
Combines Chambord raspberry liqueur, vanilla vodka and pineapple juice for a light, fruity twist.
V: Vegetarian item   |   VA: Vegetarian alternative available - ask your server
GF: Gluten Free item   |   GFA: Gluten Free alternative available - ask your server
Iron Goat Trashy Blonde 
Blonde Ale $4.5
River City Red 
Red Ale $4.5
Maryhill Rose 
Light and crisp with fruit forward notes. $5