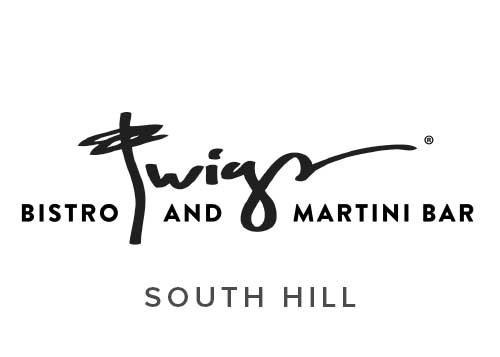 TWIGS BISTRO AND MARTINI BAR

SOUTH HILL
A South Hill destination serving a great American Menu
CUISINE: American
4320 S. Regal St.
509.443.8000
Menu served Monday-Sunday, 11am-Close
First Course
Tequila Prawn Cocktail
Prawns poached in tequila and butter then chilled and served with spicy cocktail sauce and lime. GF
Steak Tostada
Fajita steak bites served with two crispy corn tortillas, guacamole, tomatoes, cotija cheese, cilantro and a lime wedge.
Ahi Poke Salad
Ahi tuna served and dressed with a poke sauce tossed in a seaweed salad, sweet onions, scallions, sesame seeds and crushed red peppers. GF
Second Course
Five Spice Crusted Chicken
French cut chicken breast seasoned with five spice and pan-roasted, served with herb butter sauce with cilantro rice, seasonal vegetables and garnished with shaved pears. GF
Red Curry Halibut
Curry-crusted halibut pan-roasted and finished with a mint red curry sauce over cilantro rice and grilled asparagus, garnished with fried parsnips. GF
Bourbon-Glazed Pork
Pork loin seasoned with a paprika-brown sugar rub, roasted and finished with a bourbon glaze, served with sour cream chive mashed potatoes, seasonal vegetables, garnished with fried parsnips. GF
Third Course
Classic Sundae
Vanilla ice cream topped with chocolate sauce, salted caramel, whipped cream, peanuts, and a cherry on top. GF
Seeing Double
Hpnotiq liquor and tequila shaken with cilantro and lime, served on the rocks as a double.
Crème Brûlée Martini
Your favorite dessert as a drink!
V: Vegetarian item   |   VA: Vegetarian alternative available - ask your server
GF: Gluten Free item   |   GFA: Gluten Free alternative available - ask your server
No-Li Twigs Amber Ale 
A special local brew produced by No-Li for Twigs. $6
Big Barn Dirt Road Rye IPA 
The rye gives a mellow spiciness to the traditional IPA hop character. $6.5
4 Seasons Coffee 
Twigs special blend coffee by Spokane's original specialty coffee roaster. $2.5