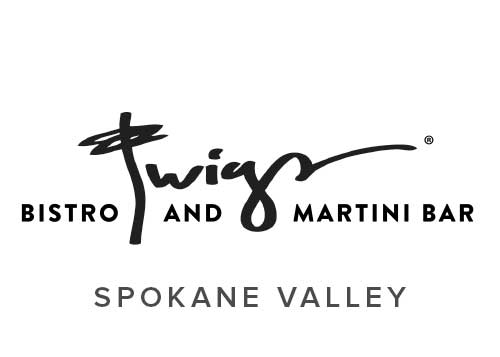 TWIGS BISTRO AND MARTINI BAR
SPOKANE VALLEY
A great American menu and a Spokane Valley destination.
CUISINE: American
14728 E. Indiana St.
509.290.5636
Menu served Monday-Sunday, 11am-Close
First Course
Black Bean and Squash Tostada
Large fried squash chips sprinkled with chili powder, topped with black bean salsa, avocado, and pickled onions. Served with jalapeño ranch. V VA
Creamy Garlic Sprouts
Roasted Brussels sprouts served in a creamy garlic and Parmesan sauce topped with smoked paprika and served with toasted focaccia. V VA
Jalapeño Prawns
Jalapeño bacon-wrapped prawns served with a BBQ butter, roasted corn, and scallions. GF
Second Course
Huckleberry Duck
Pan-fried duck breast cooked to your liking served with parsnip puree, a huckleberry pan sauce, and roasted butternut squash. GF
Pepper Jack Mac
Marinated chicken, jalapeño bacon, red onions, bell peppers, sautéed and tossed in a creamy pepper jack cheese sauce, topped with a black bean salsa and green onions.
Peppercorn Steak
Hand-cut sirloin cooked to your liking and served with cauliflower mash, roasted asparagus salad, topped with a brandy peppercorn sauce and finished with fried squash chips. GF
Third Course
Huckleberry Brûlée
A layer of huckleberry compote topped with a classic vanilla custard and a toasted sugar crust. GF
Seeing Double
Hpnotiq liquor and tequila shaken with cilantro and lime, served on the rocks as a double.
Huckleberry Cheesecake Martini
Svedka citrus vodka and Frangelico shaken with huckleberries and cream. Served in a graham cracker rimed martini glass.
V: Vegetarian item   |   VA: Vegetarian alternative available - ask your server
GF: Gluten Free item   |   GFA: Gluten Free alternative available - ask your server
No-Li Twigs Amber Ale 
A special local brew produced by No-Li for Twigs. $6
No Li Big Juicy IPA 
Bright citrus and tropical fruit hop aromas lead the way in this IPA from No-Li. $6.5
4 Seasons Coffee 
Twigs special blend coffee by Spokane's original specialty coffee roaster. $2.5