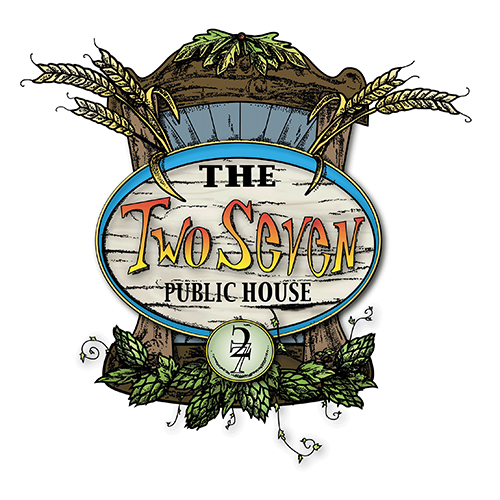 the 2-7 follows the simple concept of great food in a casual setting.

CUISINE: Gastropub
Spokane | South
509.473.9766
2727 S. Mt. Vernon #5
Daily, 11am-11pm
First Course
Corn Chowder | Potatoes, onions, garlic, corn and jalapeños simmered with cream and chicken stock. Garnished with Parmesan cheese and served with sliced French bread.
---
Crostini | Thin sliced French bread is toasted then topped with garlic aioli, steamed asparagus and a Parmesan cheese sauce.
---
Chicken and Bacon Bites | Chunks of chicken wrapped in peppered bacon and served with smoked jalapeño cream cheese for dipping.
Second Course
Pulled Pork Sandwich | Pulled pork tossed with our Memphis style barbecue sauce is served on a toasted bun with mayo and coleslaw, accompanied by your choice of roasted corn pasta salad, Tim's chips or potato salad.
---
Mu Shu Wrap | Our Mu Shu patty of ground pork and beef, bean sprouts and ginger is char-grilled, then stuffed into a warm flour tortilla with cucumbers, rice, hoisin and an Asian slaw. Served with a side of cucumber kimchi salad.
---
Seafood Fettuccine | Shrimp and crab meat simmered with onions, roasted red bell peppers, garlic and fresh basil, then tossed with cream and fettuccini noodles. Garnished with Parmesan cheese and fresh parsley and served with sliced French bread.
Third Course
Moon Unit | A homemade brownie topped with Tillamook vanilla ice cream and drizzled with chocolate sauce.
---
Root Beer Float | Henry Weinhard's root beer served over Tillamook Vanilla ice cream.
---
Milk Stout Float | Perry Street Brewing's Milk Stout served over Tillamook vanilla ice cream.
No-Li on draft  | Ask your server which No-Li beer we are currently pouring. $6
Dry Fly Vesper  | Dry Fly gin and vodka mixed with touch of vermouth. Served up with garnished with a lime twist. $8
Milk Stout Float  | Perry Street Brewing's Milk Stout served over Tillamook vanilla ice cream. $6