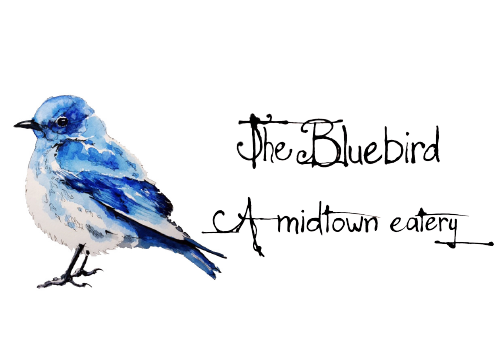 The Bluebird. A Midtown Eatery
Northwest inspired bistro in the heart of midtown Coeur d'Alene
CUISINE: Bistro
(208) 665-3777
816 N. 4th St.
Coeur d'Alene
Menu served Tuesday-Sunday, 4 pm -Until closing
First Course
Cup of Soup or Side Salad
Could be brothy, could be creamy. Who knows? We do! Ask your server for the daily soup. Go LEAFY – we have four side salads to choose from.
Scallop
Seared diver sea scallop of the week with continuously changing and seasonally inspired ingredients.
Chicken Liver Pâté
With sour cherries, baguette, pickled red onions, mustard.
Second Course
Tenderloin
6 oz filet with wilted frisée, roasted carrots, demi-glacé and fries.
Salmon
Roasted salmon with white beans, carrots, onions, celery and wilted romaine lettuce, topped with green onion and mint pesto.
Duck Confit
With roasted Brussels sprouts, pork belly, potato hash.
Third Course
Vegan Chocolate Torte
Vegan. Chocolate. Goodness.
Cheesecake
Could be fruity. Could be chocolatey. Definitely cheesy.
Bread Pudding
Syringa's bread pudding with sake soaked raisins, hazelnuts, vanilla ice cream and salted caramel.
V: Vegetarian item   |   VA: Vegetarian alternative available - ask your server V+ Vegan Item
GF: Gluten Free item   |   GFA: Gluten Free alternative available - ask your server
DRINK LOCAL
Post Falls Brewing
Rotator pints. $4
Trailbreaker Cider
Citrus Cucumber Cider. $5
Pend d'Oreille Wines
A selection of wines from our neighbors up North. A selection of red and white wines flights available. $7