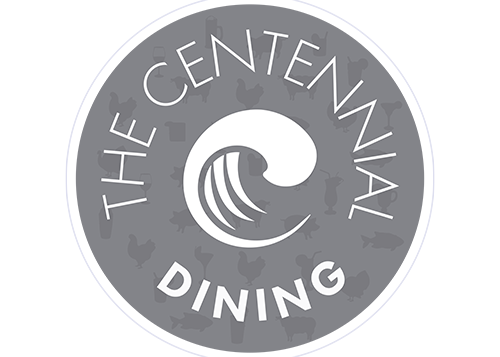 Centennial Dining
A beautiful place to dine while enjoying riverside ambiance.
CUISINE: American
(509) 326-8000
303 W. North River Dr.
Spokane

Menu served Monday-Sunday, 5 pm-10 pm
First Course
Bourbon Glazed Steak Flatbread
Tender steak with bourbon glaze, sauteed mushrooms and mozzarella cheese
Gorgonzola Salad
Mixed greens, Craisins, candied pecans, sliced apples, Gorgonzola vinaigrette, and red onions
Salmon Cakes
Crispy on the outside, warm and soft on the inside
Second Course
Pork Street Tacos
Tender shredded pork braised in traditional Mexican spices, topped with mexi slaw and lime cilantro sour cream. Served with rice.
Seafood Carbonara
Shrimp and scallops sauteed with pancetta, mushrooms, onion, cream sauce and penne pasta
Black & Blue Beef Medallions
Blackened beef tenderloin medallions, Gorgonzola cream sauce, rustic potato garlic mash, seasonal vegetables
Third Course
Bread Pudding
Housemade baguettes cooked in a custard batter and topped with butter rum sauce
Chocolate Gianduja Torte
Layers of chocolate chiffon, hazelnut mousse, almond praline, and citrus infused creme anglaise
Warm Apple Crisp
Washington apples, cinnamon streusel, served with a scoop of Häagen-Dazs vanilla ice cream
V: Vegetarian item   |   VA: Vegetarian alternative available - ask your server V+ Vegan Item
GF: Gluten Free item   |   GFA: Gluten Free alternative available - ask your server
DRINK LOCAL
Riverbank
Dry Fly Gin, ginger beer, mint, bitters and lime $8
No-li Brewhouse
Rotator pint $7
Arbor Crest Wine
Merlot, Cabernet, Riesling or Chardonnay $9