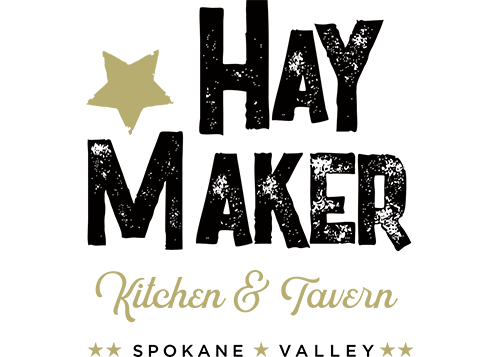 Haymaker Kitchen & Tavern
Elevated pub food, full bar and plenty of taps to satisfy. Come hang!
CUISINE: AMERICAN
(509) 279-2073
6412 E. Trent Ave.
Spokane Valley

Menu served Monday-Saturday, 3pm – 8pm
First Course
Mac & Cheese Bites
Breaded mac and cheese bites with house cheese drizzle, bacon bits and Parmesan cheese  
Egg Rolls
Egg rolls laid on freshly shredded cabbage, topped with sweet and sour and green onions 
Deep Fried Mozzarella
Hand-breaded garlic mozzarella slices served with marinara and topped with Parmesan cheese and balsamic reduction 
Second Course
Bacon Patty Melt
One-third pound beef patty stacked with caramelized onions, bacon and smoked chili cheddar cream cheese. Served on buttered, seasoned Texas toast 
Smoky Pork Sandwich
Shredded pork, house-made slaw, onions, smokey chipotle barbecue, Swiss cheese and house-made sweet and spicy pickles, served on a buttered brioche bun 
Mushroom Chicken Alfredo
Cavatappi tossed in a mushroom Alfredo sauce with Italian chicken breast, topped with Parmesan cheese and bacon bits  
Third Course
New York Cheesecake
New York cheesecake topped with maraschino cherry mint sauce 
Raspberry Chimis
Deep-fried raspberry cheesecake chimis with raspberry drizzle and sprinkled with powdered sugar, served with ice cream
Deep Fried PB&J
Two crustless, deep-fried PB&J sandwiches served with strawberry drizzle and dusted with powdered sugar 
*To ensure quality service, we will not be honoring any modifications to this menu. Special consideration for allergies.
V: Vegetarian item   |   V+ Vegan Item
GF: Gluten Free item   |   GFA: Gluten Free alternative available - ask your server
DRINK LOCAL
Dry Fly Fizz
Dry Fly Gin, St. Germain, housemade sour, muddled cucumber, splash of 7UP and club soda $9.50
The Fly Fashioned
Dry Fly Bourbon 101, house-made simple syrup, bitters, orange zest and Luxardo cherry $10
Brick West Brewing
Ask your server for our current rotation $6.50