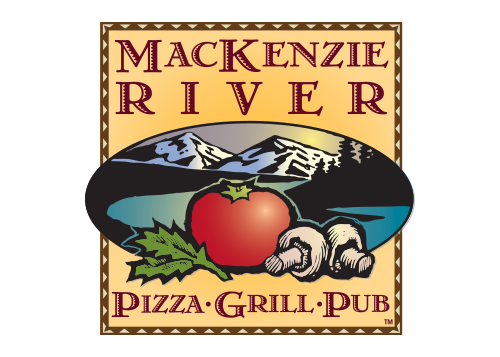 Mackenzie River Pizza, Grill & Pub
An incredible array of delectable dishes, always flavorful and fresh
CUISINE: American
2910 E. 57th Ave.
South Spokane
(509) 315-9466
405 W. Canfield Ave.
Coeur d'Alene
(208) 772-5111
9225 N. Nevada St.
North Spokane
(509) 413-1043
HOURS OFFERING IRW MENU
Monday-Sunday, 11 am-close
First Course
House Salad
Fresh greens, diced pears and crunchy Grape Nuts with your choice of dressing. V
Caesar Salad
Romaine lettuce, shredded Parmesan and seasoned croutons tossed in Caesar dressing. Anchovies by request.
Soup of the Day
Signature soups made from scratch daily.
Second Course
Buffalo Mack N' Cheese
Fajita chicken, bleu cheese crumbles, spicy Buffalo sauce, breadcrumbs and penne in a classic cheese sauce.
Ol' Prospector
Half pound all-beef burger packed with nuggets of golden cheddar and smoky bacon, topped with smoked Gouda. Served on a brioche bun with a side of fries.
Fish & Chips
Deep fried sweet and spicy breaded fresh cod. Served with fries, house coleslaw and tartar sauce.
Third Course
Carrot Cake
Spiced carrot cake layers with walnuts, pineapple, raisin and cream cheese frosting.
Mack Lovin'
Gooey chocolate chip cookies in a piping hot skillet with vanilla ice cream and chocolate sauce.
Kentucky Toast
Deep-fried butter pound cake served with Kentucky bourbon caramel sauce & vanilla ice cream, dusted with sea salt.
V: Vegetarian item   |   VA: Vegetarian alternative available - ask your server V+ Vegan Item
GF: Gluten Free item   |   GFA: Gluten Free alternative available - ask your server
DRINK LOCAL
No Li Brewhouse
Born & Raised IPA $5
Townshend Winery
Red Table Wine $6
Gilligan's Island
Dry Fly Vodka, peach schnapps, orange juice and cranberry juice. $9