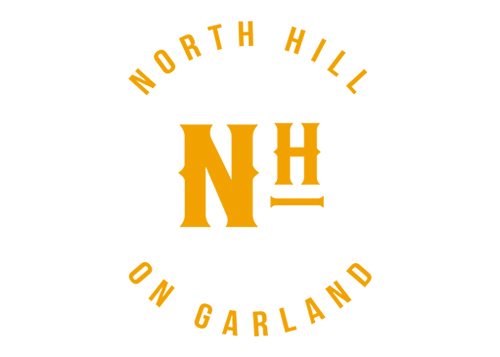 North Hill on Garland
A friendly local hangout featuring scratch cooking and craft cocktails
CUISINE: Gastropub
(509) 279-2054
706 W. Garland Ave.
Spokane
HOURS OFFERING IRW MENU
Monday-Sunday, 3 pm-Until closing
First Course
Steamer Clams
Clams steamed in a garlic herb compound butter, shaved fennel and reduced in white wine and absinthe. Garnished with a grilled lemon and crostinis. GF
Wings
Dry rubbed wings tossed in your choice of barbecue, sweet Asian, or locally owned Booey's Buffalo Hot Sauce. Served with carrot sticks and choice of dressing. GF
Pigs in a Blanket
Sonnenberg sausage and cream cheese wrapped in a puff pastry. Served with Cougar Gold cheese sauce and sweet hot mustard.
Second Course
Tri Tip Dip
Tri tip steak served with Walla Walla caramelized onions, Swiss cheese and a horseradish cream sauce atop a freshly baked ciabatta roll. Served with your choice of a side. GFA
Berry, Feta & Honey Flatbread
Artisan style flatbread layered with local seasonal fruit, feta cheese, and Walla Walla caramelized onions. Topped with fresh basil and honey drizzle. GFA, V
Rustic Veggie Biscuit Pot Pie
Stacked with peas, carrots, onions, celery, garlic, kale and chickpeas. Topped with a flaky biscuit. V
Third Course
Gluten-Free Brownie
Chocolatey gluten-free brownie served with housemade whipped cream and chocolate sauce. GF
Champagne Custard
A champagne custard topped with boozy berries. GF
Housemade Brownie
A gooey housemade brownie topped with Skrewball Whiskey whipped cream and caramel sauce.
V: Vegetarian item   |   VA: Vegetarian alternative available - ask your server V+ Vegan Item
GF: Gluten Free item   |   GFA: Gluten Free alternative available - ask your server
DRINK LOCAL
Dry Fly Pelican Old Fashioned
Dry Fly Cask and Release Series is a straight wheat whiskey aged in Pelican Brewing barrels. Showcasing Skidmore Alchemy Orange Bitters to give you a smooth and flavorful Old Fashioned. $10
Two Winey Bitches
True Blue Dry Blueberry Cabernet $8
Iron Goat Brewery
Trashy Blonde or Brewski Blonde $5