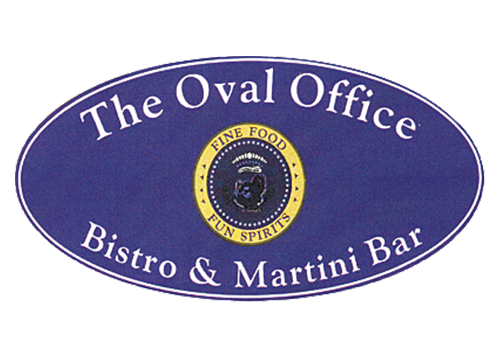 Oval Office Bistro
American bistro with a European flare
CUISINE: European Inspired
(208) 777-2102
620 N. Spokane St.
Post Falls
HOURS OFFERING IRW MENU
Menu served Monday-Sunday, 3 pm -11 pm
First Course
Calamari
Crispy, delicious and served with lemon aioli GF
Artichoke Pesto Dip
Baked and served with naan bread V
House Salad
Mixed greens, tomatoes, red onions, Gorgonzola with raspberry vinaigrette V
Second Course
Cioppino
Don't miss out on our famous seafood stew! GF
Gangster Steak
Angus New York steak served with creamy mushroom-Gorgonzola sauce. We Love Steak!
Grilled Halibut
Grilled and served with jalapeño-lime butter sauce GF
Third Course
Lemon Cheesecake
All the lemony goodness you can handle!
Creme Brûlée
The perfect blend of espresso and love
Heidini Martini
Put the lime in the coconut… and have fun!!
V: Vegetarian item   |   VA: Vegetarian alternative available - ask your server V+ Vegan Item
GF: Gluten Free item   |   GFA: Gluten Free alternative available - ask your server
DRINK LOCAL
Liberty Lake Wine Cellars
Tahija Merlot $7 glass / $25 bottle
Radio Brewing IPA
$5
Cinnamon Old Fashioned
Made with Dry Fly whiskey, this drink will warm your belly as we wait for sunshine $9