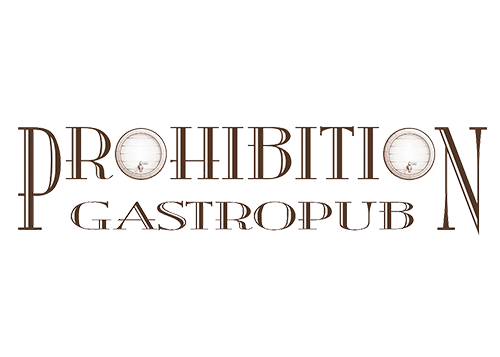 Prohibition Gastropub
Scratch made food made from locally sourced products
CUISINE: Gastropub
(509) 474-9040
1914 N. Monroe St.
Spokane
HOURS OFFERING IRW MENU
Monday-Sunday, 5 pm-Until closing
First Course
French Onion Soup
Slow-cooked caramelized onions in a rich beef broth topped with a fresh crouton and a gooey house cheese blend.
Grilled Wedge Salad
Artisan romaine flash-grilled and served with cherry tomatoes, red onion, blue cheese crumbles and candied bacon. Served with housemade blue cheese dressing GF
Baked Brie
Gooey cheese wrapped in a puff pastry topped with a seasonal compote and served with a toasted baguette V
Second Course
Al Capone Burger
The burger that made us famous! Coffee infused beef, served on an Alpine Bakery brioche bun, topped with lettuce, tomato, onion, candied bacon, Tillamook cheddar cheese, 'dirty' ketchup and a fried egg GFA
Blue Cheese Lasagna
Chef Leonetti's favorite, filled with chicken, creamy garlic sauce, and a hint of blue cheese. Served with sourdough bread.
Grilled Salmon
Fresh salmon grilled to perfection served with creamy mashed potatoes, seasonal vegetables and citrus butter GF
Third Course
Panna Cotta
A traditional Italian dessert made with cream and served with seasonal fruit glaze GF
Whiskey Chocolate Mousse
A light and fluffy chocolate dessert topped with whipped cream and finished with sliced bananas and a brulee finish
Tiramisu
A wonderful coffee flavored Italian dessert with ladyfingers, mascarpone cheese, coffee and cocoa powder
V: Vegetarian item   |   VA: Vegetarian alternative available - ask your server V+ Vegan Item
GF: Gluten Free item   |   GFA: Gluten Free alternative available - ask your server
DRINK LOCAL
The Merida
Warrior bourbon, fresh lemon juice, ginger-rosemary simple syrup $8
YaYa Brewing
Rotating tap $6
Bridge Press Cellars
Evil Queen Red Blend $9