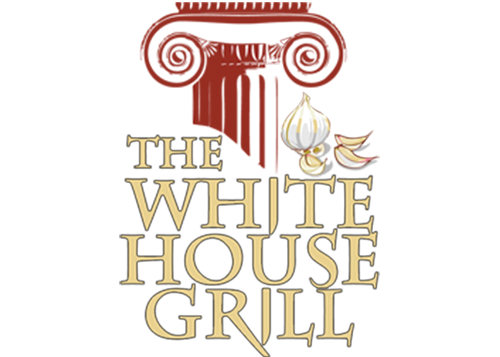 The White House Grill
Garlic focused Mediterranean cuisine
CUISINE: Mediterranean
(208) 677-9660
712 N. Spokane St.
Post Falls
Menu served Monday-Sunday, 11 am-10 pm
First Course
Cevizli Havuc
Try this popular Mediterranean appetizer! Sautéed carrots, ground walnuts and herbs, chilled then mixed with Greek yogurt, olive oil, lemon juice and mayonnaise  V
Sarhos Salad
Arugula, fennel, orange slices and feta cheese tossed with our house-made orange vinaigrette  V
Vermicelli Soup
Spicy chicken broth with tomatoes, garlic, lemon juice and vermicelli noodles. The perfect way to start your meal!
Second Course
Chicken Italiano
Grilled chicken breast over a creamy mushroom marsala sauce. Served with penne pasta and garlic green beans
Snapper
Raci's favorite dish! Pan seared with tomatoes, capers and garlic. Topped with a white wine-butter sauce and served with rice and garlic green beans
Adana Kabob
Famous in Turkey! House-ground lamb and beef mixed with traditional spices. Grilled and served over pickled-onion relish and warm buttery pita goodness. Served with rice and garlic green beans
Third Course
Tiramisu
Homemade, not store bought!
Kadayif
A variety of ground nuts rolled in shredded wheat phyllo. Baked and drenched in our delicious honey syrup
Chocolate Martini
Rich, delicious and boozy!
V: Vegetarian item   |   V+ Vegan Item
GF: Gluten Free item   |   GFA: Gluten Free alternative available - ask your server
DRINK LOCAL
Flying Old Fashioned
Dry Fly Whiskey, bitters, vanilla bean, simple syrup $9
Arbor Crest
Raci Blend
$8 glass | $26 Bottle
Stoney MacGuyver IPA
A well-balanced IPA from Post Falls Brewery $5