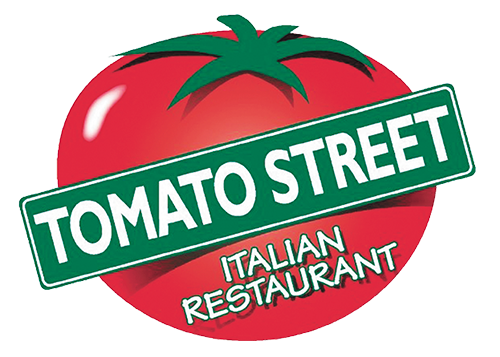 Cuisine made from scratch, modern in approach and "Italiano" in spirit.
CUISINE: Italian
North Spokane
509.484.4500
6220 N. Division
Downtown Spokane
509.315.4175
River Park Square, 808 W. Main
Open Mon-Sun
First Course
Tomato Basil Soup
A Tomato Street favorite! Served with fresh garlic bread 
Minestrone Soup
An Italian classic served with fresh garlic bread 
House Garden Salad
Your choice of homemade dressing: creamy garlic, honey mustard, Italian, Thousand Island, blue cheese or huckleberry vinaigrette. Served with fresh garlic bread   
Second Course
Chicken Parmesan
Two breaded chicken breasts with marinara and melted mozzarella, provolone and Parmesan cheeses, served with a side of fettuccini Alfredo 
Penne Pallame
Oven-roasted chicken, bacon, green peppers, fresh tomatoes, lemon butter with a garlic and Alfredo sauce tossed with penne pasta 
Baked Lazonni
Lasagna, wrapped in pizza dough, brick oven fired with your choice of sauce: marinara, meat, Alfredo, tomato-mushroom, or zesty tomato 
Third Course
Chocolate Amaretto Mousse
Whipped light and fluffy with a rich chocolate-Amaretto flavor 
Grandma's Bread Pudding
Our famous homemade bread pudding with golden raisins and cinnamon, topped with caramel sauce and vanilla ice cream
Spumoni Ice Cream
A heaping scoop of this classic Italian favorite! 
Dry Fly Kamikaze
Washington Wheat Vodka, Cointreau, fresh lime, simple syrup $8.50
Latah Creek Wine Cellars
Huckleberry D'Latah Reisling $6.50
No-Li Brewhouse
Tomato Street House Amber $5
ABV 5% IBU 10