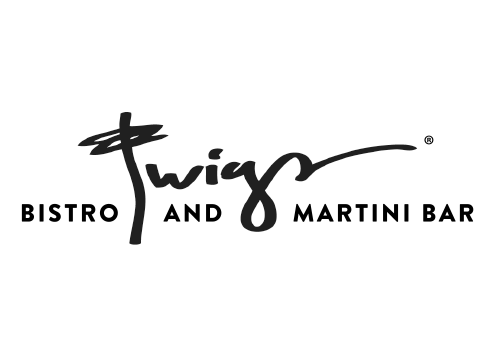 MAKE A RESERVATION
WITH


TWIGS BISTRO AND MARTINI BAR
A homegrown favorite serving a great American menu in four local locations. 
CUISINE: American

Downtown Spokane • River Park Square, 808 W. Main St. | 509.232.3376
North Spokane • 401 E. Farwell Rd. | 509.465.8794
South Spokane • 4320 S. Regal St. | 509.443.8000
Spokane Valley • 14728 E. Indiana St. | 509.290.5636
Open Mon-Sun
First Course
Five-Spice Pork Belly
Crispy pork belly paired with cucumber-tomato relish, shaved radish and a lemon dressing. |GF
Crab-Shrimp-Pineapple Tower
Fresh blue crab layered with chilled shrimp, charred pineapple relish and shaved cabbage, served with orange-basil dressing and wonton crisps. 
Asparagus Salad
Thin-cut asparagus tossed in a white truffle dressing with hardboiled egg, shaved Manchego cheese and cherry tomatoes, garnished with a Parmesan crisp. |GF
Second Course
Maple-Dijon Fried Chicken
Chicken dipped in Dijon and buttermilk, fried until golden brown, served over parsnip puree, drizzled with a maple glaze and garnished with watercress. 
Hoisin BBQ Ribs
Baby back ribs grilled and glazed with a sweet-spicy sauce served with chive sour cream mashed potatoes, watercress and daikon radish slaw. |GF
Artichoke Salmon
Pesto-crusted sockeye salmon roasted and served over artichoke-bacon hash with lemon dressing, artichoke frites and watercress. |GF
Third Course
Maple Creme Brulee
Classic custard layered in a mason jar with salted caramel and a burnt sugar crust. Garnished with a candied bacon stick. 
Sycamore Lane Cabernet or Sycamore Lane Chardonnay
Sycamore Lane starts with carefully selected grapes that are grown in California's most respected wine regions producing great wines for a discerning palate. 
Big Barn Brewing Company Rotating Beer
Featuring rotating selection from Big Barn Brewing Company located at Greenbluff. Ask your server for selection. 
Big Barn Brewing Company Beer
Featuring select rotator from Big Barn Brewing Company. A local family-owned Greenbluff brewery. $6
TnT Red Blend or TnT Chardonnay
Twigs partners with Terra Blanca Winery to create our special TnT label wines from the Red Mountain region.
Chardonnay $8.50.
Red $9.50
4 Seasons Coffee
Twigs special blend coffee made by Spokane's first and finest specialty coffee roaster. $2.50