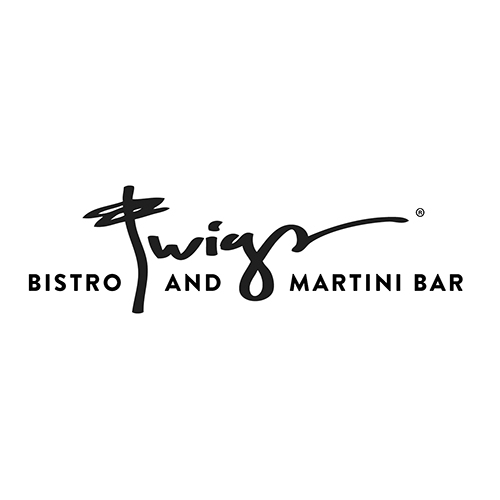 TWIGS BISTRO AND MARTINI BAR
Sophisticated yet casual American fare.

CUISINE: American
Spokane | Downtown • 808 W. Main| 509.232.3376
Spokane | South • 4320 South Regal | 509.443.8000
Spokane Valley • 14728 E. Indiana| 509.290.5636
Spokane | North (Wandermere) • 401 East Farwell Rd | 509.465.8794
Daily, 11am-close
First Course
Brussels Sprouts | Tossed with bacon, roasted garlic, brown sugar, shallots and red wine vinegar, finished with a pinch of chili flakes. |GF
---
Crispy Risotto Bites | Italian rice cooked with sweet sausage and smoked Gouda, then rolled into bites and deep fried. Served with bacon mayo, chili oil, oregano leaves and garnished with toasted walnut dust.
---
Five Spice Pork Belly | Seasoned pork belly braised and paired with cucumber-tomato relish, shaved radish and a lemon dressing. |GF
Second Course
Pesto Grilled Shrimp Salad | Baby greens, roasted cashews, cherry tomatoes, red onion, and fresh mozzarella cheese, tossed with a charred tomato dressing topped with a pesto-crusted shrimp skewer. |GF
 | *Try it paired with a glass of TNT Red Mountain Chardonnay $8.50
---
Spicy Chicken Tiki Masala | Curry-crusted chicken breast paired with a rich curry cream sauce. Served over steamed jasmine rice with broccolini, cilantro and chili oil. Garnished with toasted peanuts. |GF
 | *Do yourself a favor and pair it with a Cherry Limeade $8
---
Pepper Steak Linguini | Peppercorn sirloin bites tossed in a rich brandy cream sauce with cherry tomatoes and red onions, topped with toasted walnut dust and oregano leaves.
 | *Pair with a glass of our TNT Red Mountain Red Blend $9.50
Third Course
Salted Caramel Cheesecake | New York-style cheesecake baked in-house on a spiced graham cracker crust, drizzled with a decadent salted caramel sauce topped with whipped cream.
---
Pint of Local Beer | Choose from Twigs Ale brewed by No-Li or a pint of rotating No-Li beer.
---
Twigs House Wine  | Choice of Twigs house red or white wine.
Twigs Coffee  | Christian Brothers brandy, Kahlua, Irish Cream, Crème de Cacao, and 4 Seasons coffee. Topped with whipped cream. $6.50
Twigs Amber Ale  | Twigs and No-Li Brewhouse collaborate on a signature unfiltered amber ale featured at all Twigs restaurants.  $5.50/$4.50 during happy hour
Huckleberry Lemon Drop  | 44º North Huckleberry Vodka and triple sec shaken with our fresh muddled citrus mix and Idaho huckleberries with a sugared rim. $11