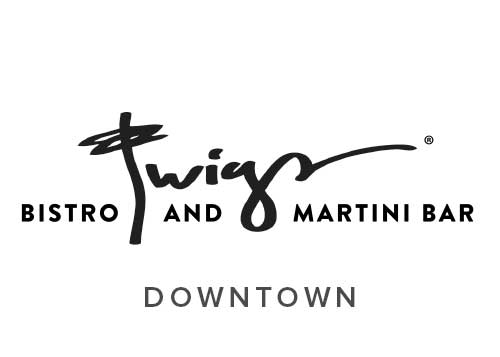 TWIGS BISTRO AND MARTINI BAR

DOWNTOWN SPOKANE
Spokane's favorite hotspot for delicious drinks and dining.
CUISINE: American

River Park Square
808 W. Main St. | 509.232.3376

Menu served Monday-Sunday, 11am-Close
First Course
Prawn Wonton Cups
Spicy prawn salad mixed with cucumbers, avocado, and red onions layered in a crisp fried wonton cup, lime-chili vinaigrette, garnished with cilantro.
Spinach Apple Salad
Spinach, crisp bacon, green apples, dried cranberries, crumbled goat cheese, and toasted almonds tossed in lemon vinaigrette. GF
Gyro Tacos
Grilled mini naan layered with roasted leg of lamb, cucumber-tomato relish, lettuce, and a stoneground mustard tzatziki sauce.
Second Course
Wild Mushroom Schnitzel
Buttermilk breaded pork tenderloin fried crisp over chive mashed potatoes with pan roasted wild mushrooms, mustard cream sauce, garnished with daikon sprouts.
Huckleberry Duck
Smoked duck breast served medium rare with parsnip puree, bacon-fried Brussels sprouts, served with a huckleberry reduction and garnished with daikon sprouts. GF
Short Rib Gnocchi
Beef short ribs cooked in red wine and rosemary served over potato dumplings with roasted garlic, herbs, and grated Romano cheese.
Third Course
Dark Cherry Chocolate Tart
Almond crust, dark chocolate ganache filling, topped with a dark cherry bourbon compote, finished with whipped cream. GF
Seeing Double
Hpnotiq liquor and tequila shaken with cilantro and lime, served on the rocks as a double.
Huckleberry Cheesecake Martini
Svedka citrus vodka and Frangelico shaken with huckleberries and cream. Served in a graham cracker rimed martini glass.
V: Vegetarian item   |   VA: Vegetarian alternative available - ask your server
GF: Gluten Free item   |   GFA: Gluten Free alternative available - ask your server
No-Li Twigs Amber Ale 
A special local brew produced by No-Li for Twigs. $6
No Li Big Juicy IPA 
Bright citrus and tropical fruit hop aromas lead the way in this IPA from No-Li. $6.5
4 Seasons Coffee 
Twigs special blend coffee by Spokane's original specialty coffee roaster. $2.5