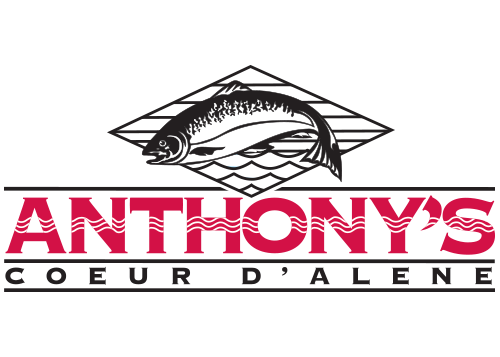 Anthony's Restaurants
Providing our guests with a truly Northwest experience
CUISINE: Northwest
(509) 328-9009
Downtown Spokane
510 N. Lincoln
(208) 664-4665
Coeur d'Alene
1926 W. Riverstone Dr.
Menu served Sunday-Thursday, 4 pm-closing
First Course
Hawaiian Ahi Nachos
Traditional Hawaiian poke served on homemade taro chips with wasabi aioli
Anthony's Award-Winning Clam Chowder
A cup of our homemade New England clam chowder
Northwest Seasonal Salad
Tender spinach tossed with alder smoked bacon, sliced mushrooms and dill vinaigrette. Finished with Parmesan.
Second Course
Fresh Columbia River Steelhead
Chargrilled and finished with roasted apple-ginger butter. Served with cornbread pudding and seasonal vegetable.
Steak and Prawns
Large ocean prawns basted with cilantro pesto and paired with a petite top sirloin
Roasted Scampi Prawns
Butterflied, roasted with garlic butter, fresh lemon and sprinkled with gremolata. Served with almond basmati rice.
Third Course
Anthony's Burnt Cream
Our traditional silky rich vanilla burnt cream with a caramelized sugar crust topping GF
Chocolate Chip Cherry Ice Cream
Made by Olympic Mountain Ice Cream GF
Mini Cherry Buckle
Sweet and tart cherries layered under a warm, delicate almond crust and topped with vanilla ice cream
V: Vegetarian item   |   VA: Vegetarian alternative available - ask your server V+ Vegan Item
GF: Gluten Free item   |   GFA: Gluten Free alternative available - ask your server
DRINK LOCAL
Fatman IPA
Northwest IPA from Idaho's Mad Bomber Brewing Company $6
Robert Karl Cellars Claret
Enjoy a glass of this red blend from Spokane's own Robert Karl Cellars. $12.5
Northwest Old Fashioned
Its history goes back to the late 1800s. Ours is made with Dry Fly Bourbon. $9.5