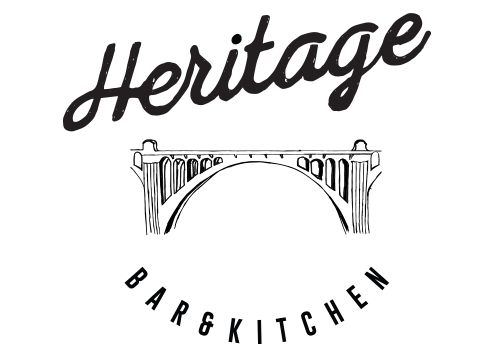 Heritage Bar & Kitchen
Elevated American pub food featuring family recipes.
CUISINE: American
(509) 863-9235
122 S. Monroe St.
Spokane
Menu served Monday-Saturday, 4 pm-9 pm
First Course
Vegetarian Dr. Pepper Chili Our house made Dr. Pepper Chili tweaked for our vegetarian friends. Made with ground impossible burger, just the right amount of heat and topped with vegan Frito style chips V, V+ 
Cucumber and Red Onion Salad A light salad with quick pickled red onions, cucumbers and cherry tomatoes. Topped with crumbled feta V 
Bacon Jam Loaded Potato Skins Delicious potato skins loaded with cheese, green onion and our house-made bacon jam GF 
Second Course
Nashville Hot Chicken Sandwich Hand-breaded chicken breast coated with our own Nashville hot spice blend. Topped with mayo, lettuce, tomato, pickle and onion on a brioche bun  
Portobello Mushroom Cheesesteak Roasted portobello mushrooms piled high with onions, peppers and melted vegan American cheese on a toasted ciabatta bun V, V+ 
Built Different Bagel Burger We're stacking our local beef smash patty with American cheese, our house-made hash brown patty, crispy bacon, a fried egg, grilled onion, lettuce, tomato, pickle and chive cream cheese on an everything bagel. You're welcome, Mike!
Third Course
Local Tap Beer Your choice of one of our local beers on tap V, V+ 
Sweet Waffle Sticks Sticky and sweet fresh-made waffle sticks with a cream cheese icing for dipping V 
Mountain Berry Milkshake Premium local vanilla ice cream blended with our mountain berry reduction V 
V: Vegetarian item   |   VA: Vegetarian alternative available - ask your server V+ Vegan Item
GF: Gluten Free item   |   GFA: Gluten Free alternative available - ask your server
DRINK LOCAL
Dry Fly Old Fashioned
House-made with Dry Fly's award winning bourbon $10
Pinacolatini
Warrior Pineapple & Coconut Vodka, lime and pineapple juice $10
Gin Blossom
Warrior Gin, St. Germain, honey simple syrup and fresh basil $11