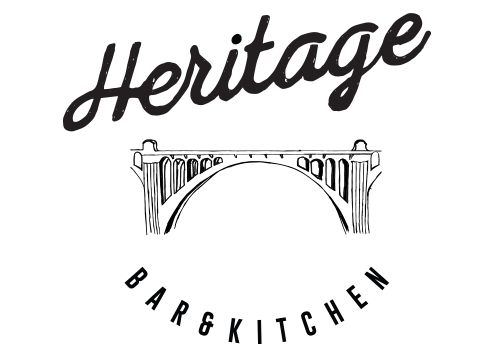 Heritage Bar & Kitchen
From Spokane. For Spokane.
CUISINE: American
(509) 863-9235
122 S. Monroe St. 
Spokane
Menu served Monday-Sunday, 4 pm-Until closing
First Course
Dr. Pepper Beef & Bacon Chili Our housemade Dr. Pepper Chili is a perfect mix of savory, sweet and spicy. Topped with cheddar cheese and green onion.
Pesto Chicken Club Salad Housemade Pesto Ranch dressing, balsamic glaze, cheddar, provolone, onions, tomato and croutons piled on our fresh greens V
Ramen Almond Salad Fresh shredded cabbage tossed in our tasty sesame ginger dressing. Finished with a crunchy mix of ramen, almonds and minced garlic V
Second Course
Giant Italian Sausage Corn Dog We take our locally made Italian sausage and cover in it our housemade Italian style corn dog batter. Served with your choice of dipping sauce
Heritage Mac Supreme Two locally sourced beef patties, housemade hash browns, double American cheese, bacon, Chipotle Ketchup, special sauce all on a brioche bun
Portobello Veggie Sandwich A marinated portobello mushroom, artichokes, roasted red peppers, pepper jack cheese and pesto aioli piled on a ciabatta bun and baked to perfection. You're welcome vegetarians. V
Third Course
Chocolate Chunk Cookie Dough Skewers No bake chocolate chunk cookie dough on a skewer drizzled in chocolate sauce V
Cheesecake Skewers Cheesecake skewer with a graham cracker crust drizzled with a strawberry reduction
Local Tap Beer Choose between one of our eight local tap beers
V: Vegetarian item   |   VA: Vegetarian alternative available - ask your server V+ Vegan Item
GF: Gluten Free item   |   GFA: Gluten Free alternative available - ask your server
DRINK LOCAL
Dry Fly Gold Rush
Dry Fly Wheat Whiskey, honey and lemon, served on the rocks $9
Warrior Coffee Slide
Warrior Coffee Vanilla Vodka and Irish Cream served in a chocolate martini glass with a cinnamon rim $11
Dry Fly SpoCollins
Dry Fly Gin with our housemade sour mix and berry reduction, served on the rocks $10