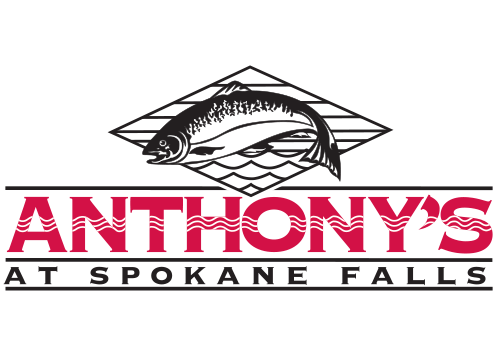 MAKE A RESERVATION
WITH


ANTHONY'S AT SPOKANE FALLS
Located in downtown Spokane, overlooking the Spokane River and upper falls.
CUISINE: Seafood
509.328.9009
510 N Lincoln St
Spokane | Downtown
Open Mon – Sun
First Course
Crispy Calamari
With lemon aioli. 
Classic Caesar Salad
Anthony's Award-Winning Clam Chowder
Second Course
Wild Alaska Silver Salmon
Roasted on an alder plank, glazed with melting leeks and served over our golden russet potato gratin oven-baked until golden with a ribbon of sweet potatoes and Gruyere cheese. 
Steak and Prawns
Double R Ranch flank steak spice-rubbed and grilled to your liking with chipotle-lime butter paired with chargrilled prawns. Finished with cranberry-lime relish. 
Patagonia Shrimp Marinara
Wild Atlantic Patagonia pink shrimp and caramelized garlic in fresh basil marinara on angel hair pasta. 
Third Course
Anthony's Burnt Cream
Our traditional silky, rich, vanilla burnt cream with a caramelized sugar crust topping. 
Olympic Mountain Chocolate Chip Cherry Ice Cream
Key Lime Pie
Light, tart, smooth and creamy, baked in a graham cracker crust. 
Spiked Cranberry Lemonade
Cranberry sauce paired with our homemade lemonade "spiked" with Dry Fly vodka. $7.50
Robert Karl Cellars Claret
Red blend. $12 glass
Inland Mule
Ginger beer, Dry Fly vodka and fresh lime over ice. $7.50