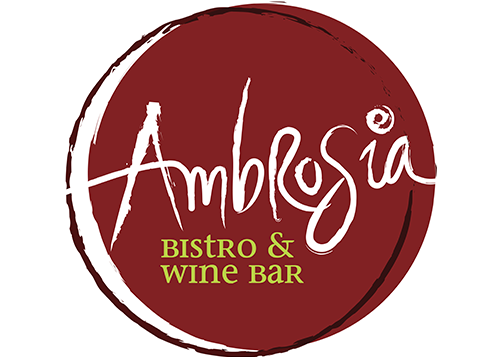 Ambrosia Bistro & Wine Bar
Great food, fine wines, and special friends.Try Ambrosia for yourself!
CUISINE: BISTRO
(509) 928-3222
9211 E. Montgomery Ave., Ste. A
Spokane Valley
Menu served Monday-Sunday, 4 pm -Until closing
First Course
Ambrosia Salad
Mixed greens tossed in raspberry vinaigrette with dried cranberries, candied walnuts, red onion, feta cheese, and reduced balsamic GFA
Butternut Squash and Red Pepper Soup
Creamy butternut squash and red pepper soup flavored with honey and cream sherry with browned butter powder GF
Smoked Salmon Cake
House smoked salmon cake with orange dill aioli and arugula
Second Course
Braised Pork Shank
Braised Snake River Farms Kurobuta pork shank with carrot confit and rosemary potatoes GF
Rock Fish
Pan seared rock fish, purple potato, arugula, charred leek vinaigrette GF
Coq Au Vin
Red wine braised chicken thigh, lardon, Crimini mushrooms, white beans, roasted garlic GF
Third Course
Chocolate and Port Mousse
Classic chocolate mousse flavored with Port wine and whipped cream GF
Bread Pudding
A house favorite for 13 years! Deep fried bread pudding tossed in cinnamon and sugar with caramel and Bourbon ice cream!
Coffee Ice Cream
Housemade ice cream with coffee liqueur and Ambrosia Bistro blend coffee
V: Vegetarian item   |   VA: Vegetarian alternative available - ask your server V+ Vegan Item
GF: Gluten Free item   |   GFA: Gluten Free alternative available - ask your server
DRINK LOCAL
Ambrosia Bistro Red Blend
Produced exclusively for us by Arbor Crest Cellars $9.5
Ambrosia Bistro White
Our own exclusive Chardonnay-Sauvignon Blanc blend! $9
Batch 201 Ipa
Easy drinking IPA by Twelve String Brewing Company $6