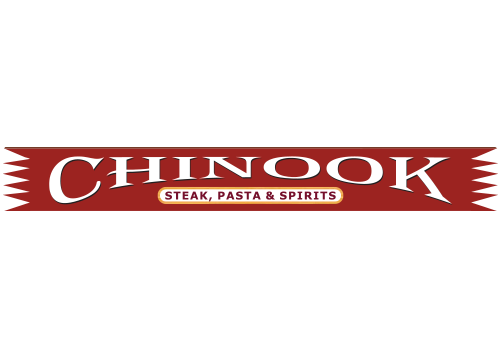 *Reservations Recommended
Chinook Steak Pasta & Spirits
Warm hospitality, tranquil ambiance and superior cuisine.
CUISINE: Northwest
800.523.2464
37914 S. Nukwalqw St.
Worley, Idaho
Coeur d' Alene Casino
Open Mon-Sun
First Course
Smoked Salmon Tartar
Housemade pickles, cured egg yolk.   
Northwest Salad
Mixed greens tossed with Shaver Farm's huckleberry honey vinaigrette, Washington apples, Oregon cheddar, huckleberries and toasted walnuts.   
Smoked Salmon Chowder
Traditional creamy chowder made with house-smoked Nisqually salmon
Second Course
Perch Provencal
Pan-seared wild perch with mixed olives and tomato sauce with a braised leek and chickpea risotto. 
Crispy Duck
Slow-cooked and crispy duck breast with wheat berry pilaf, butternut squash puree and cranberry chutney. 
Elk Burger
Pecorino-Romano cheese, bacon, mushroom relish, bibb lettuce, crispy shallot, smoked truffle burger sauce.
Third Course
Huckleberries and Cream
Huckleberry crumble, dried meringue, whipped cream cheese, huckleberry honey, ice cream, graham. 
Sweet Potato Cheesecake
With bruleed marshmallow fluff, apple reduction. 
Shades of White "Candy Bar"
Shortbread, white cheddar and mascarpone, white chocolate, white wine caramel, fleur de sel.
Laughing Dog Brewing
Uprooted Amber Ale. $4.75
Coeur d'Alene Casino Private Label White
$6 glass / $22 bottle
Coeur d'Alene Casino Private Label Red
$7 glass / $26 bottle