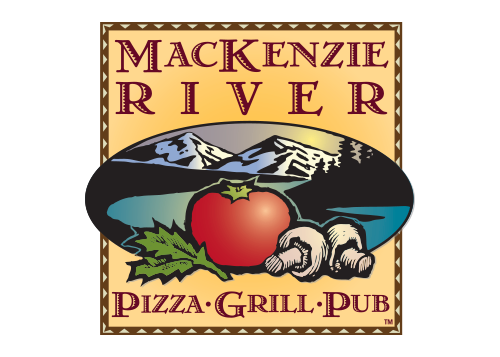 MACKENZIE RIVER PIZZA, GRILL and PUB
Menu Features an incredible array of delectable dishes, always flavorful and fresh.

CUISINE: American
Spokane | North • 9225 N. Nevada | 509.413.1043
Spokane | South • 2910 E. 57th | 509.315.9466
Idaho | Coeur d'Alene • 405 W. Canfield Ave. | 208.772.5111
Open Mon-Sun
First Course
House Salad
Fresh greens, diced pears and crunchy Grape Nuts with your choice of dressing. 
Caesar Salad
Romaine, shredded Parmesan and seasoned croutons tossed in Caesar dressing. Anchovies by request. 
Soup of the Day
Signature soups made from scratch daily. 
Second Course
Baked Ziti
Spicy Italian sausage, velvety blush sauce, basil-ricotta and penne, topped with mozzarella and Parmesan and baked to perfection. 
Chorizo Meatball Skillet
Spicy chorizo meatballs baked in hearty ranchero sauce, topped with avocado sour cream, queso fresco, cilantro and an over-easy egg. 
Baja Fish Tacos
Two flour tortillas with spicy grilled or breaded cod fillets, pineapple salsa, arugula and avocado sour cream. Served with blue tortilla chips and house salsa. 
Third Course
Kentucky Bourbon Bites
Bourbon-dipped pound cake deep-fried and dusted with powdered sugar. Served with caramel bourbon and raspberry dipping sauces. 
Mud Pie
Coffee ice cream with almonds and fudge on a chocolate cookie crumble crust. 
Mack Lovin'
Gooey chocolate chip cookies in a piping hot skillet with vanilla ice cream and chocolate sauce. 
No-Li Brewhouse
Born & Raised IPA. $5
Townshend Winery
Red table wine. $6
Gilligan's Island
Dry Fly Vodka, peach schnapps, orange juice and cranberry juice. $7