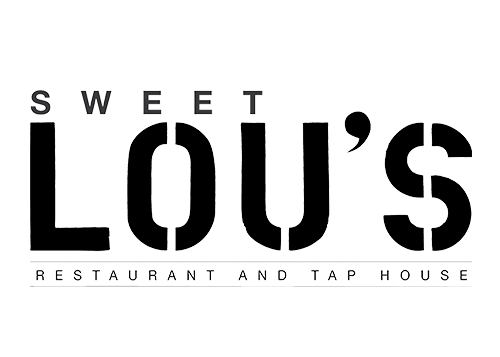 Sweet Lou's Restaurant and Tap House
American fare, with original recipes and fresh ingredients.

CUISINE: American
208.667.1170
601 E. Front Ave.
Coeur d' Alene, ID
Open Mon-Sun
First Course
Tailgate Egg Rolls
Two egg rolls stuffed full of cream cheese, jalapeños and mixed cheeses. Served with homemade jalapeño jelly for happy dipping. |V
Wings
Three bone-in wings, you decide how you want them. Wet: House BBQ or buffalo  Dry: Salt and pepper, cajun or lemon pepper 
Caesar Salad
Chopped romaine, Parmesan and croutons tossed with creamy Caesar dressing.  |V
Second Course
Bison Ribs
Fred Flintstone would be impressed with this dish! Three tender ribs glazed with bourbon barbecue sauce. Choice of one side. |GF
60/40 Meatloaf
We add a variety of spices and breadcrumbs to our signature blend of beef and bacon, top it with a brown-sugar glaze and bake it to perfection. Served with mushroom gravy and choice of side.   
Manny's Battered Fish and Chips
Wild Alaskan cod dipped in Manny's Pale Ale beer batter, served with fries.   
Third Course
Chocolate Chip Cookie Skillet
Baked when you order so it's hot enough to melt the vanilla bean ice cream on top. 
Huckleberry Cheesecake
Homemade cheesecake made with local huckleberries picked from our top-secret pickin' spot.   
S'mores
Bringing the camp fire to your table with this sweet treat – graham crackers, marshmallows and Hershey chocolate.   
Lou's Brew IPA
Our own beer brewed locally by Laughing Dog (Ponderay) and only served at Sweet Lou's restaurants. Don't be intimidated by its IPA status. We worked hard to create a beer both craft beer enthusiasts and light beer drinkers will enjoy. $3.75 /pint
Daft Badger Blood Orange IPA
Distinct citrus-like nose, bright on the tongue, yet drying immediately leaving a hoppy finish. $4.25 /Pint
No-Li Big Juicy
Mellow bitterness just balances the fruity notes in the hop forward, golden-colored IPA. $4.25 /Pint