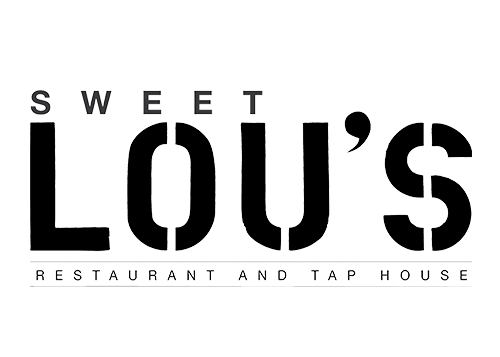 Sweet Lou's Restaurant and Tap House
American fare, with original recipes and fresh ingredients.

CUISINE: American
208.667.1170
601 E. Front Ave.
Coeur d' Alene, ID
Menu served Monday-Sunday, 11am-10pm
First Course
Tailgate Egg Rolls
Two egg rolls stuffed full of cream cheese, jalapenos and mixed cheese. Served with homemade jalapeno jelly for happy dipping. V
Wings
Three bone-in wings, you decide how you want them. Wet: house BBQ or buffalo Dry: salt and pepper, cajun or lemon pepper.
Calamari
Hand-battered rings and tentacles served with Sriracha mayo and cilantro lime aioli.
Second Course
Bison Ribs
Fred Flintstone would be impressed with this dish. Three tender glazed bison ribs with bourbon barbecue sauce. Served with choice of one side. GF
* Additional Bison Rib $5
Ahi Poke
Ahi tuna tossed with our poke sauce and avocados. Served in a fried wonton with toasted pita. Choice of soup or salad. GFA
Bleu Cheese and Mushroom Top Sirloin
Melted bleu cheese crumbles and sauteed mushrooms top our hand-cut 6 oz. Certified Angus Beef choice top sirloin. Served with choice of one side. GFA
* Grilled Shrimp Skewer $5.99
Third Course
Chocolate Chip Cookie Skillet
Baked when you order so it's hot enough to melt the Tillamook vanilla bean ice cream.
Huckleberry Cheesecake
Homemade cheesecake made with local huckleberries picked from our top-secret pickin' spot.
S'mores
Bringing the campfire to your table with the sweet treat – graham crackers, marshmallows and Hershey chocolate.
V: Vegetarian item   |   VA: Vegetarian alternative available - ask your server
GF: Gluten Free item   |   GFA: Gluten Free alternative available - ask your server
Lou's Brew IPA 
Our very own house IPA. $4
Daft Badger Blood Orange IPA 
Distinct citrus-like nose, bright on the tongue yet drying immediately leaving a hoppy finish. $5.5
Post Falls Stoney MacGyver 
A well-balanced India Pale Ale with a strong alpha punch in the front and lasting resinous finish. The over-the-top complex and pungent aroma is the result of copious amounts of Citra and Mosaic hops. $4.5