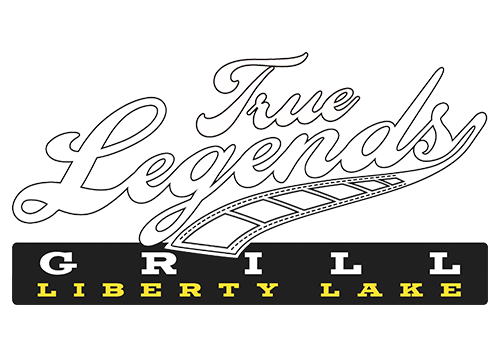 Liberty Lake's premier casual restaurant featuring a 26'x10′ legendary HDTV.
CUISINE: American
509.892.3077
1803 N. Harvard Rd.
Liberty Lake, WA
Menu served Monday-Sunday, 11am-Close
First Course
Roasted Red Pepper Hummus
Housemade Greek hummus finished with sliced red peppers, olive oil and balsamic glaze. Served with fried pita chips. V
Caesar Salad
Crisp romaine tossed with grated Parmesan and True Legends Caesar dressing. V
Salmon Chowder
Our signature chowder full of fresh salmon, or choose our chef's soup of the day.
Second Course
Shrimp Thai Peanut Pasta
Sauteed shrimp, cabbage, green onions, peanuts and cilantro tossed in our house-made Thai peanut sauce with linguine noodles. This is the entree you won't want to miss!
Salisbury Steak
Chef Kyle's legendary Salisbury steak slowly cooked in a beef demi-glace gravy, served on top of garlic mashed potatoes.
Bourbon Honey Mustard Burger
Find out why True Legends is famous for burgers with this new creation, a half pound Angus beef patty with bourbon honey mustard dressing, fried wonton noodles, mushrooms, Swiss cheese, lettuce and tomato. Served with endless fries.
Third Course
Warm Cookie à La Mode
Baked to order peanut butter chocolate chip cookie topped with ice cream and chocolate sauce.
Legendary Hot Fudge Brownie Sundae
Housemade brownie topped with vanilla ice cream and chocolate fudge sauce.
Root Beer Float
A mug overflowing with root beer and vanilla Ice cream topped with whipped cream and a cherry for a touch of elegance.
V: Vegetarian item   |   VA: Vegetarian alternative available - ask your server
GF: Gluten Free item   |   GFA: Gluten Free alternative available - ask your server
Classic Northwest Manhattan 
Dry Fly Washington Wheat Whiskey, sweet Vermouth, topped with a cherry $10
True Legends Signature Red Wine 
Premium red wine produced exclusively for True Legends by St. Hilaire Cellars $5
No-Li Big and Juicy 
Proud to feature many local breweries throughout the year $4.95