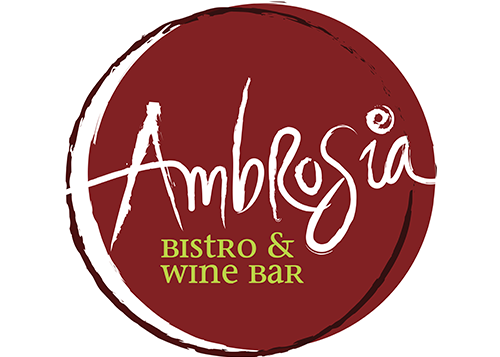 Ambrosia Bistro & Wine Bar
Serving the Spokane Valley for over twelve years.

CUISINE: Bistro
509.928.3222
9211 E. Montgomery
Spokane Valley
Menu served Monday-Sunday, 4pm-9pm
First Course
Saffron and Chorizo Arancini
Deep fried saffron scented rice balls stuffed with Chorizo sausage and served with marinara sauce
Smoked Salmon Tart
Tart made with house smoked salmon, Boursin cheese, shaved red onion and fried capers
Tomato Basil Soup
Creamy tomato basil soup topped with a crispy cheese crouton
Second Course
Salmon En Croute
Wild Alaskan sockeye salmon fillet topped with cream cheese, spinach and caramelized onion, wrapped in crispy puff pastry and topped with a lemon dill cream. Serves with wild rice and seasonal vegetables
Chicken Saltimbocca
Chicken breast stuffed with prosciutto, provolone, and sage and topped with a lemon caper sauce. Serves with mashed Yukon Gold potatoes and seasonal vegetables
Roasted Pork Tenderloin
Pan roasted pork tenderloin on a chorizo-potato hash topped with caramelized apples
Third Course
Tiramisu
A house favorite! Liquor soaked lady fingers layered with shaved chocolate and mascarpone cream
Creme Brulee
Rich, sweet custard enveloped in a burnt sugar crust – an always delicious, classic dessert!
Italian Cherry Sundae
House-made Amarena cherry ice cream topped with chocolate sauce and fresh whipped cream. The perfect way to end a meal!
Ambrosia Bistro Red 
Custom blended for Ambrosia. Dark fruits, cherry and leather $9
Ambrosia Bistro White 
Custom blended for Ambrosia. Peach, melon, tropical flavors $9
Twelve String Brewing C# IPA 
C sharp is our hop forward, hop head IPA $6