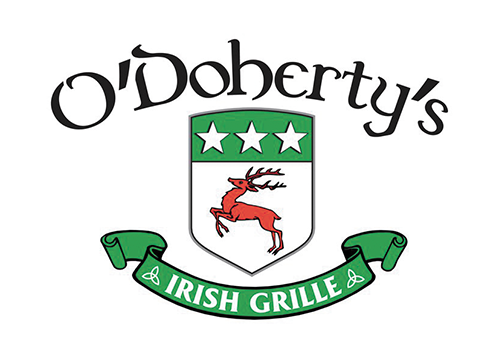 Family-friendly pub in the heart of downtown Spokane!
CUISINE: Irish
509.747.0322
525 W. Spokane Falls Blvd.
Downtown Spokane
Open Mon-Sun
First Course
Erin's Irish Stew
Beef and sausage stew simmered slow with hearty vegetables.   
Patty's Scottish Egg
A hard boiled egg wrapped in mild sausage and deep fried. Served with a Dijon mustard dipping sauce. 
Pick a Draft!!!
A good start to every Irish meal! Pick your favorite from one of our 16 drafts including local and rotating handles! 
Second Course
Fish and Chips
Alaskan fish fillet, dipped in our Guinness beer-batter and deep fried. Served with our famous O'Doherty's french fries, tartar sauce and coleslaw! 
Bangers and Mash
Traditional pork sausage boiled in Guinness and then grilled. Served atop a pile of mashed potatoes and steamed cabbage. 
Hooligan & Hannigan
Spokane's favorite Reuben sandwich 25 years and running! Tender, slow cooked corned beef, with sauerkraut and Swiss cheese all topped with Thousand Island dressing on grilled rye bread! 
* Grilled onions on request
Third Course
Galway-style Bread Pudding
Traditional Irish dessert, served warm with a Celtic cream whiskey sauce. 
Chocolate Lover's Brownie
Warm brownie served with vanilla ice cream and drizzled with dark chocolate sauce! 
O'Doherty's Irish Coffee
Finish the night right with this twist on a Irish classic cocktail. Featuring a cup of hot 4 Seasons Coffee mixed with Irish cream and Irish Mist liqueur topped with whipped cream~Sláinte!   
Whiskey Barrel Dam Cider
Crisp dry cider. $6.25
Bennidito's Brewpub
Checkerboard Pale Ale. $5.75
No-Li Brewhouse
Born and Raised IPA. $5.75