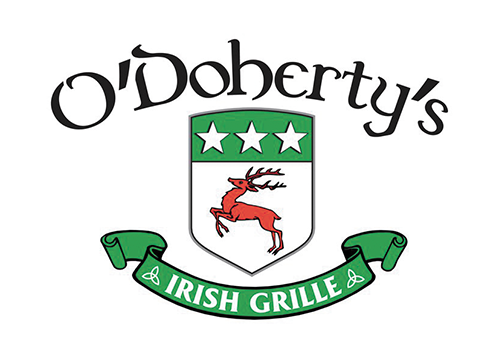 Family-friendly pub in the heart of downtown Spokane!
CUISINE: Irish
509.747.0322
525 W. Spokane Falls Blvd.
Downtown Spokane
Menu served Monday-Sunday, 11:30am-Close
First Course
Irish Stew
Beef and sausage stew simmered slow with hearty vegetables. GFA
Mozzarella Sticks
Fresh cut mozzarella hand dipped and fried to perfection!
Patty's Scottish Egg
A hard-boiled egg wrapped in mild sausage and deep fried. Served with a Dijon mustard dipping sauce.
Second Course
Blackened Chicken Sandwich
Grilled chicken breast seasoned with our homemade blackened spice topped with melted swiss, crispy bacon, and a scoop of our tangy house coleslaw- served on a toasted bun with cajun mayo, lettuce and tomato
Hooligan & Hannigan
Spokane's favorite Reuben sandwich 26 years and running! Tender, slow-cooked corned beef, with sauerkraut and Swiss cheese all topped with Thousand Island dressing on grilled rye bread! 
* Grilled onions added on request
Fish and Chips
Alaskan fish fillet, dipped in our Guinness beer-batter and deep fried. Served with our famous O'Doherty's french fries, tartar sauce and coleslaw! V
Third Course
O'Doherty's Irish Coffee
Our twist on Irish Coffee! Featuring 4 Seasons coffee with Irish Cream and Irish Mist Whiskey liqueur and whipped cream!
Galway-style Bread Pudding
Traditional Irish dessert served warm with a Celtic cream whiskey sauce
Apple Crisp
Warm cinnamon apples topped with an oat and brown sugar crumble and a scoop of vanilla ice cream!
V: Vegetarian item   |   VA: Vegetarian alternative available - ask your server
GF: Gluten Free item   |   GFA: Gluten Free alternative available - ask your server
O'Danaghers Whiskey 
Dry Fly's limited release American Hibernian Whiskey $9
Whiskey Barrel Damn Hard Cider 
Crisp dry cider produced in Pullman, Wash. $6.25
No-Li Brewhouse 
Born and Raised IPA $5.75