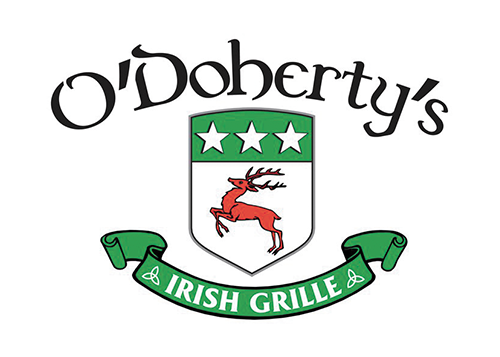 O'Doherty's Irish Grille
Spokane's favorite Irish pub, right across from Riverfront Park
CUISINE: Irish
(509) 747-0322
525 W. Spokane Falls Blvd.
Spokane
Menu served Monday-Sunday, 11:30 am-10 pm
First Course
Irish Stew
Beef and sausage stew simmered slow with hearty vegetables 
Mozzarella Sticks
Fresh cut mozzarella cheese, hand dipped and fried to perfection!
Patty's Scottish Egg
A hard-boiled egg wrapped in mild sausage and deep fried. Served with a Dijon mustard dipping sauce
Second Course
Hooligan & Hannigan Reuben Sandwich
Spokane's favorite Reuben sandwich 29 years and running! Tender, slow-cooked corned beef, sauerkraut and melted Swiss cheese all topped with 1000 Island dressing on grilled rye bread. Served with O'Doherty seasoned steak fries
Grilled onions added on request
Fish & Chips
Alaskan fish fillet, dipped in our Guinness beer-batter and deep fried. Served with our famous O'Doherty seasoned steak fries and tartar
Bangers & Mash
Irish-style pork sausage, boiled in Guinness and grilled. Served with sautéed cabbage and white cheddar mashed potatoes and gravy
Third Course
O'Doherty's Irish Coffee
Our twist on Irish coffee! Irish cream and honey whiskey liqueur in 4 Seasons blend coffee, topped with whipped cream
Galway-Style Bread Pudding
Traditional Irish dessert, served warm with a Celtic cream whiskey sauce
Homemade Apple Crisp
Warm cinnamon apples, topped with an oat and brown sugar crumble and a scoop of vanilla ice cream!
V: Vegetarian item   |   V+ Vegan Item
GF: Gluten Free item   |   GFA: Gluten Free alternative available - ask your server
DRINK LOCAL
O'Doherty's Irish Ale
Light brown ale, brewed by No-Li Brewhouse in Spokane $5.90
One Tree Hard Cider
Crisp, dry cider produced in Spokane $6.25
O'Danaghers Whiskey
Dry Fly's limited release American Hibernian Whiskey $9